Larry, I know your new book "My Remarkable Journey" will be out in bookstores in a few days. I hope to read it, and I'm sure there are no footnotes about me in it! But I did cross paths with you briefly in the late 50s, and then again in 1971. My life changed dramatically because I reached out to you.
For years, I've had a lot of fun with this quote:
"I dated Larry King, but never married him. Of course, he never asked me!"
This message is heartfelt. I just want to thank you for being in my life in the early times and offering me encouragement. We had one rather forgettable date in the 1950s, when you were on radio at WAHR with your alter-ego Captain Wainwright, the crooked Miami cop on filter mike -- I loved that character!
I was on television at Miami's WTVJ Channel 4 with "Skipper" Chuck Zink on "Popeye Playhouse," the local live children's show that ran from 1957 to 1979. I was the first "First Mate" on the show while in my first year of college (1957-58). Larry, you and I were introduced by WTVJ salesman Frank Boscia, who thought we might have something in common. You are five years older than I am, and we are both from Jewish backgrounds. I think we ate at the drive-in restaurant Pickin' Chicken, but don't recall much else. I already had fallen in love, but not with you...
In 1962, I graduated with a B.A. in Communications with honors from the University of Miami and moved to New York City. I had a successful career as a production assistant at NBC's "Tonight" unit, working for Dick Carson, Johnny Carson's brother, who directed the show at that time. Later, I worked with NBC's documentary news division. I was On-Air Promotion Supervisor at WPIX Channel 11, and did copywriting for several advertising agencies. One production job was with Barry Gray at WMCA, who was credited as the first talk host to put telephone calls on the radio in the early 1960s. I had no idea at the time that I would ever perform on TV -- or radio -- again!
I married classmate Peter R. in 1963. He had emigrated to New York as a small boy with his parents. They lived in Washington Heights. Peter was an aspiring TV producer and film director with a degree from UCLA. Peter achieved a responsible job with ABC, working with the program development group and then with the Wide World of Sports unit. We had a beautiful daughter born in October 1968. Peter's dreams of success in his chosen field were not to be. He became disillusioned, but he had one final job offer with Reela Films in Miami, working on documentary fillms. We moved back to Florida in March 1969 with our tiny daughter. I got pregnant almost immediately. Our second child, David, was born at Miami's Mercy Hospital in December 1969. The Reela job evaporated. After Peter's career crisis, two children, and eight years of marriage, he chose to divorce me. My parents were unable to help, and I had to support myself, the two kids, and a dog. Peter remarried another woman in April 1971, three weeks after our divorce.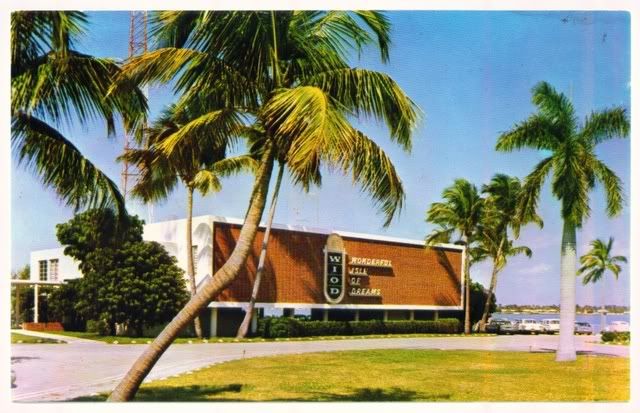 Larry, I reconnected with you in the summer of 1971. I was divorced and working some very menial jobs for little pay. I had the two tiny children to care for, and a monthly home mortgage to cover. One early morning, I was driving from Miami Beach to Opa Locka. You were on WIOD radio and you called out for someone to
PLEEZE
bring you doughnuts and coffee. I stopped at a local shop and bought the refreshments you requested. Although you didn't remember me from our brief encounter in the 1950s, you invited me to stay and screen your calls before they went on the air. I kept dropping in and you promised that you would talk to the program manager about some compensation for my work. One day, I began to supply you with hour-long "woman in the mall" cassette tapes when you started to fall asleep at the microphone. Somewhere along the way, a listener re-named me "Ellen Rainbow" which is just a few letters added to my ex-husband's name.
You kept me busy, interested, and even laughing for those difficult months in the fall and winter. But a few days before Christmas 1971, you were gone -- caught in a legal monetary tangle that I barely understood.
I have not seen nor spoken you from that day to this. Of course, I know your career reignited on Westwood Radio and then on CNN for years. I was so happy you were back!
These are some newspaper clippings which I recently recovered: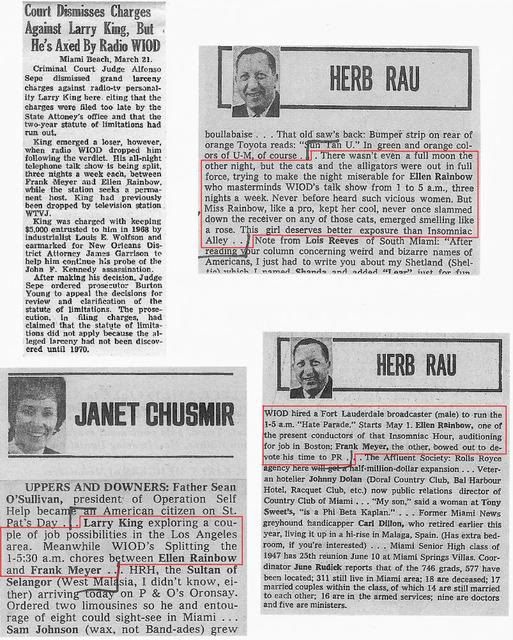 After you were gone, WIOD Program Manager Elliott "Biggie" Nevins hired me do the night show shift three times a week, while they looked for a male host to replace you. He paid me $50 each night I hosted. I might have ended up who-knows-where if I had not had that income.
In the first few months of 1972, I did a show with Larry Johnson in Chicago via WATS lines. Then, we patched in with Bruce Lee on Boston's WEEI-AM. (No, not THAT Bruce Lee!) Bruce saved the tape and called me. He said CBS was looking for a woman to do 10 AM to 2 PM. I had to make the first contact with Program Manager Dan Griffin, because if they called me, it would be "talent raiding." At the time, WEEI was owned and operated by CBS and a union shop. WIOD was affiliated with NBC. WEEI management flew me to Massachusetts for a marathon interview on April 28, 1972. It was a glorious spring day that will live in my memory forever. Barbara Trombley, one of my former WIOD guests, took me around to see Boston sights. I was immediately enchanted by this historical city and the beautiful temperate weather.
Dan Griffin offered me the job a few days later. I gave my children to my ex-husband and his wife temporarily, and told them I would let them know when I was settled in an appropriate living space. I packed up my Volvo and my Cocker Spaniel dog, drove to northern Florida, boarded the Autotrain, got off in Virginia, and headed up to Boston.
On May 15, 1972, I started a brand new gig as the first woman with a daily, four-hour radio talk show in Boston. At the beginning, I worked six days each week, four hours a day Mon. thru Sat. on "Boston Forum with Ellen Kimball." Imagine! I was talking for 24 solid hours each week. It was a crushing schedule, but I kept it going for months. Finally, management relented and newsman Ben Farnsworth took over the Saturday show. My show was eventually renamed "The Ellen Kimball Show."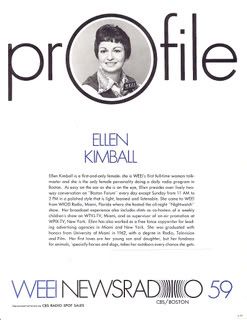 A few years later, another Boston station, WMEX AM, hired me after WEEI changed their format: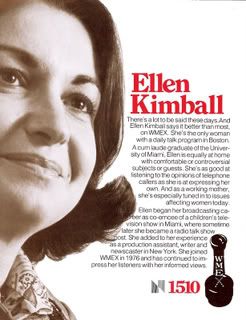 I met a widower with three older children in June 1972. He is from a Jewish background, and five years older than I am. His first wife had died at age 34 from cancer. He was trained as an electrical engineer, and later became a software analyst. We married on February 4, 1973 and we will celebrate 37 years of marriage in 2010.
Our wedding day. Daughter Linda is one year younger than Larry's daughter Chaia. Son David is 14 months younger than his sister.
My husband and I moved from Boston to Portland, Oregon eleven years ago. I will be 70 years old on May 31st, and my husband will be 75 on June 23rd. It has been a full life. Yes, there have been stepfamily setbacks, but we are now enjoying worldwide travel, photography, swimming, Broadway musicals, and having fun with our young grandchildren. I review entertainment for www.KGW.com, the website of Channel 8, the NBC-TV affiliate in Portland. It's a volunteer job for which I receive no compensation.
Thanks for being who you are, and for helping me along my remarkable journey.
Sincerely,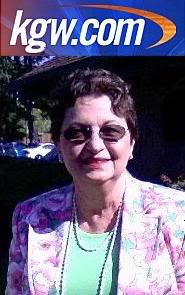 Ellen Kimball (Radio_Lady)
http://ellenkimball.blogspot.com/
Tweet me! @Radio_Lady
Larry is on Twitter @kingsthings
PS. In 2006, I called Steve Z., the radio engineer with whom Larry and I worked at WIOD. Steve is a charming and wonderful guy, now retired from Cox Broadcasting and living in Venice, Florida. He entertains me daily with a hefty array of fascinating emails and we speak by telephone quite frequently.
Larry with his wife, Shawn Southwick. and their two young boys, Chance and Cannon: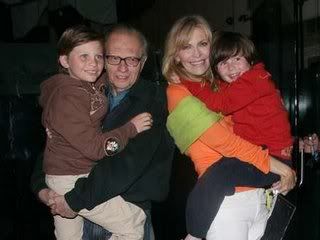 Friday, May 15, 2009