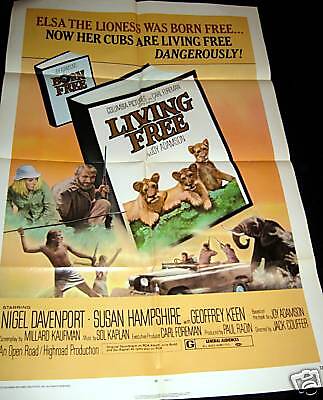 'Living Free,' which I attended in a preview tonight at Wometco's Miracle Theater, is somehow muted in comparison to its predecessor, 'Born Free.'
The director must have realized the power of the original, since many minutes of the film's opening are taken up with footage from 'Born Free,' together with a blend of tonalities from the award-winning song. But that echo, that excitement just didn't seem to provide the required emotional involvement when it got down to the brass tacks of the 'Living Free' story.
Elsa, the mother lioness, has died from infection, leaving three orphaned cubs that must be taken from the area because they are stealing domestic animals from villagers. There was little personal involvement with the three cubs, perhaps because of the vow that Joy Adamson made not to interfere again with their wile and free lives. And so we are witness to a long round-up and corral of the three cubs to transport them to the Serengeti Ntional Forest, where they will presumably be living free again.
Nigel Davenport and Susan Hampshire, while both fine actors of good reputation, did not mesh together like the husband-and-wife acting team of Bill Travers and Virginia McKenna. Miss Hampshire was radiantly perfect in face and diction, and she seemed almost too courtly to be in Africa at all. The story line left wide questions about actual wildlife practice. Would two dedicated experts not even experiment with tranquilizers or other advanced methods to capture the lion cubs, rather than try to catch them with a rather crude triple cage method that involved three cubs going into three separate cages at precisely the same moment? It reminded me of the children's hand game where the little marbles have to fall simultaneously into the clown's eyes, nose and mouth in order to win. Nevertheless, to all people who loved 'Born Free,' you will find moments of tenderness and laughter, tears and playfulness. The scope and beauty of Africa is still there. It's just hard to have to compare a good film to a great one.
I give this film a 'B' on Ellen's Entertainment Report Card.
(Film opened on Friday, March 10, 1972 in Miami, Florida.)
Link here for Internet Movie Database page:
http://www.imdb.com/title/tt0068866/
Wednesday, July 8, 2009