Hello to all! I'm posting this UPDATE on Monday, October 12, 2009.


This summer, I have been afflicted with a painful medical condition.
No one can determine what has caused this. My daily routine changed radically in early June 2009.
Even after all these months, there are no real answers to why I am feeling this kind of pain. Some research suggests I may have had rare adverse reactions to two routine vaccine injections administered in January and May of this year.
Here are the details:

This unidentified illness (a lingering neuropathy) manifests itself with excruciating, radiating left chest, arm and back pain. The condition has had a profoundly negative impact on my day-to-day life.
Apparently, my heart is NOT the cause of the pain.


Ironically, the doctor ordered a routine echocardiogram (ultrasound) of my heart in August. There is a defined problem with one of the valves in my heart. The official diagnosis is mitral valve regurgitation

(translation: valve is leaking blood in the wrong direction) which has been rated moderate to severe. I am now scheduled for another heart test (transesophageal echocardiogram) on October 13, 2009 to further evaluate the initial results

.

I cannot spend as much time sitting at the computer because that makes the pain worse. I have to stay active and have increased walking and swimming. The doctors have placed me on medications so I can tolerate this illness. I require more rest every day and am struggling to achieve that goal. One doctor feels I may have to endure 6 - 12 months of general healing and pain control while my system regulates itself.

Please check my past blog posts. Also, look at the right column of this blog for a list of linked blogs. I believe there are some very interesting people in my personal blogosphere!

Thanks for your patience and understanding. Hope I'll be back soon when I'm more comfortable.
Feel free to leave me a comment. Cordially, Ellen & Al (Photo with my husband on Utah trip in 2007)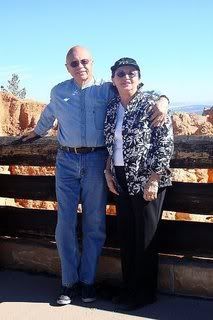 Original post date: September 8, 2009