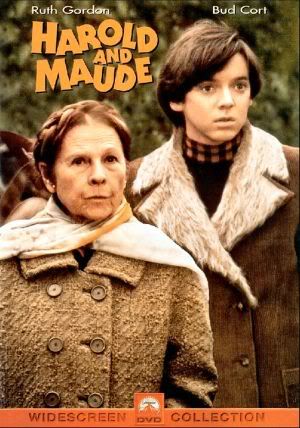 1971 Film
Reviewed in Boston May-June 1974
"Movie will run indefinitely based on solid SRO crowds."



There's a simple tale, well-told these days at the Allston Cinema on Harvard Avenue. Judging from the standing-room-only crowds, it's a big hit with Boston moviegoers. Now, you might have missed "Harold and Maude" the first time around a couple of years ago, because it's the kind of film that didn't cause a sensation.
But in Minneapolis, "Harold and Maude" just broke all attendance records with a 46 MONTH run. That's in an industry that usually values a movie when it draws crowds for a week or two.
Harold and Maude are an oddball couple if there ever was one. Bud Cort plays Harold. He's just out of his 'teens -- an ashen-faced young man whose sole macabre interest is death. He stages fakey dramatic suicides for shock value. His idea of kicks is going to funerals.


At one funeral, he happens to meet Maude. She's going on eighty years old, but never you mind... she's a snip of a girl at heart. She loves flowers and trees and the earth. She's old enough to be Harold's grandmother, but youth is a state of mind, and Maude is eternal.




Actress Ruth Gordon plays Maude to the hilt. In real life, Ruth is married to Garson Kanin, a man many years her junior. Kanin vows that Ruth savors every minute of her real life... When she bites into an apple, she'll exclaim, "This is the MOST WONDERFUL apple I've ever eaten!"

It's that joy of life that comes through in this movie, and Boston is eating it up.




"Harold and Maude" is good, solid filmmaking, with skillful acting, just enough humor and bite, plus a swift but poignant ending. Michael Sirota, the manager of the Allston Cinema, plans to keep the film there as long as people come to fill up his two- hundred-seat theater.




Please go -- and get there early for a good seat. "Harold and Maude" -- a couple of kooks who got a well-deserved second chance! I'm giving this an "A" on Ellen's Entertainment Report Card.




This is Ellen Kimball for WEEI Newradio 59.