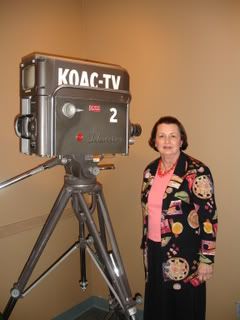 Ellen Kimball with an image orthicon camera about as old as I am!
Hello People of the Blogosphere!
I'm a retired broadcaster in the Portland suburbs, still reviewing movies and entertainment at www.KGW.com. This photo was taken at Oregon Public Broadcasting where I used to volunteer.
Formerly, under the screen name Radio_Lady, I had a web journal at a Democratic political group (November 2004 - July 2008).
If you want to find about 6,000 posts, go to
the Democratic Underground.com
and search for Radio_Lady. (Don't forget the underscore, because there are many worldwide radio ladies!) You'll find out a lot about me -- too much information, maybe.
Today I decided to get on board with Blogger.com. I have much to learn technologically, but I'm sure my software-analyst-and-generally-great husband, that Digital Geezer, will help me if I ask! :-)
I hope this will serve me for many more delightful interactions with some kind of audience. Please comment, and even if you disagree pleasantly, have no fear. Comment moderation has been enabled -- thank you for your understanding
August 12, 2008