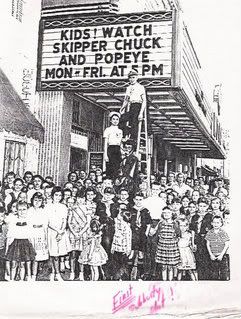 These pictures were taken during the winter of 1957, in Studio "B" and in front of Wometco's downtown Miami location at 316 North Miami Avenue, Miami, Florida.
"Skipper" Chuck Zink, our clown "Glumbo Despair" (Richard McMurry), and I were perched on a ladder, with our audience clustered around us on the sidewalk below.
After Chuck passed away at age 80 in January 2006, many people came forward with their photographs taken with him from 1957 to 1979, when WTVJ abandoned the local childrens' show format.
August 14, 2008