My husband and I were vacationing in Palm Springs, California from Dec. 13 to Jan. 3, so we missed many film previews. We did manage to see Milk, Doubt, Slumdog Millionaire, and The Curious Case of Benjamin Button. But this is an interesting piece I'm happy to pass along. EK
======================================================
The Curious Case of Gran Torino
By S. JAMES SNYDER / NEW YORK 1/26/2009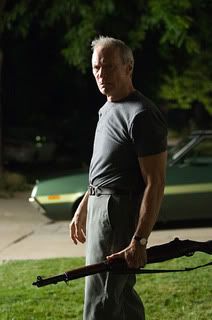 Settling a score with himself, Clint Eastwood in Gran Torino.
This year's Oscar storylines have already been etched in stone — Mickey Rourke as the comeback kid, Slumdog Millionaire as the art house wunderkind, Milk as the timely social commentary (released three weeks after Proposition 8 passed in California). Yet while the critics have been fussing over wrestlers and Mumbai quiz shows, audiences have been flocking to Gran Torino — an Oscar outcast that's been doing laps around the competition at the box office. At some point this week, the Clint Eastwood drama will pass the $100 million mark, easily surpassing the box office receipts brought in by not only some of the Oscar front-runners (Slumdog Millionaire now totals $56 million, Milk $21 million) but also by Eastwood's last Oscar winner, Million Dollar Baby.
"It's an amazing story that no one's really talking about," says Paul Dergarabedian, box office analyst with Hollywood.com. "For a movie starring a 78-year-old to have a $29 million opening weekend in wide release, and in the process to beat out the likes of Anne Hathaway in Bride Wars, I don't know if I've seen that before ... it's a testament to how people still feel about Clint Eastwood."
Originally released Dec. 12 in only six theaters, and hyped by Warner Brothers as a major awards contender, the film won Eastwood early recognition by the National Board of Review as Best Actor, but that's been the exception to the rule. At the glitzy Golden Globes, Gran Torino was mentioned in only one category: original song. When the Oscar nominees were unveiled last week, Gran Torino was shut out of the competition completely.
It is certainly one of the least likely blockbusters in some time. Starring Eastwood as a crotchety widower living in Detroit's Highland Park neighborhood — a veteran of the Korean War who eyes his Hmong neighbors suspiciously and launches into racist tirades when provoked — Gran Torino was filmed on location in only five weeks, on a slim budget of $35 million. The majority of its Hmong characters were played by non-professionals. In addressing such tumultuous issues as racial strife, gang warfare and urban blight, it can hardly be categorized as escapist entertainment.
"The film confronts issues that are very timely, from racial violence to economic struggles. It's a working-class world that we may not see all that often in blockbusters, but it's something a good many people can relate to," says Karie Bible, an analyst with Exhibitor Relations. Surely Eastwood could not have predicted, when he first set out to make the film, that Detroit's economic woes would be making national headlines by the time Gran Torino arrived in theaters (his character is a retired Ford assembly plant worker), nor that the movie would be launching into wide release the same day the U.S. government released the darkest unemployment report in 16 years.
Audiences, though, have embraced the film's realism. Bible's firm projects the title will soar north of $150 million before it leaves theaters — making Gran Torino the biggest haul for an Eastwood film ever. By then, it may well pass the box office totals posted last year by such summer tent poles as Mamma Mia!, The Incredible Hulk and Sex and the City. "Slumdog and The Wrestler are these Cinderella stories that have overshadowed Gran Torino, and yet here is another Cinderella story all its own," Dergarabedian says. "You look at Eastwood, and here he is, directing Changeling which got Angelina Jolie her Oscar nomination, and starring in this blockbuster where he proves again that he's one of the biggest box office stars. To become a leading man again at 78, I think it's a story that's unparalleled in cinema."
Eastwood has been quoted as saying that this could mark his last outing as an actor. If that's true, he will be going out on top.
(Publicity and promotion by Ellen Kimball, Accessible Media Services, Portland, Oregon, through her blog and other review sites. )
January 30, 2009