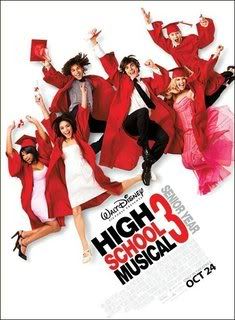 Our family has a long history of supporting musicals. My husband and I continue to attend many revivals of older works while thoroughly enjoying what the younger crowd is producing these days.
Regrettably, I was very sick the week that "High School Musical 3" premiered here in Portland, and missed posting my timely review at a couple of websites. However, moviegoers have voted with their dollars on this one and HSM3 is now honored with the biggest opening for a musical ever.
This is a great movie for all -- grownups and youngsters alike. I'm giving it a B+ on Ellen's Entertainment Report Card.
I just learned that there is now a SINGALONG VERSION which has now been released in 125 digital movie theaters around the country. The film employs digital captioning technology which I haven't personally seen, but maybe some rainy day, I'll bop over to my local theater and check it out again.
"This is the first time Walt Disney Pictures has ever released a singalong version of a movie in theaters nationwide," said Mark Zoradi, president, Walt Disney Motion Pictures Group. "'High School Musical 3' has already received a tremendous response from audiences everywhere and we felt that the movie's huge base of enthusiastic fans would really embrace a singalong version."
You can find the nearest singalong showing by logging onto:
DisneyHSM3
Please enter your zip code or city/state into the available ticketing application. A listing of area theaters and show times, including singalong showings, will be provided.
About the Movie
Disney's "High School Musical" phenomenon leaps onto the big screen in HIGH SCHOOL MUSICAL 3: SENIOR YEAR, in which America's favorite high school students (ZAC EFRON, VANESSA HUDGENS, ASHLEY TISDALE, LUCAS GRABEEL, CORBIN BLEU and MONIQUE COLEMAN) hit senior year. Amidst a basketball championship, prom and a big spring musical featuring all of the Wildcats, Troy and Gabriella vow to make every moment last as their lifelong college dreams put the future of their relationship in question. A crew of sophomore Wildcats (MATT PROKOP, JUSTIN MARTIN, JEMMA MCKENZIE-BROWN) joins in the fun as the film's incredible new music and exciting dance numbers take maximum advantage of the big screen. Directed by Kenny Ortega from a screenplay written by Peter Barsocchini, the film is now showing in theaters nationwide.
MeetInTheLobby.com has lots of shiny new photos
here.