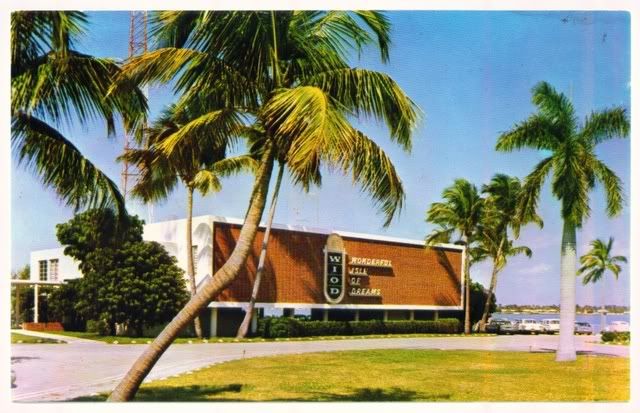 Steve Zeigler, retired radio engineer from WIOD, Miami, Florida, sent this to me a couple of days ago. Steve and I were together briefly in 1971-72 at this picturesque station located on North Bay Causeway between Miami and Miami Beach. This was when I took over Larry King's late night radio program after he was briefly arrested. All I can say is that Steve is a very kind man who helped me out a great deal when I was in tremendous need.
Steve:
Here is my Paul Harvey story. It runs a bit long but you just might enjoy it on this winter day. Every microphone should have a black band around it, for a few days, in honor of Paul Harvey, "Mr. Radio".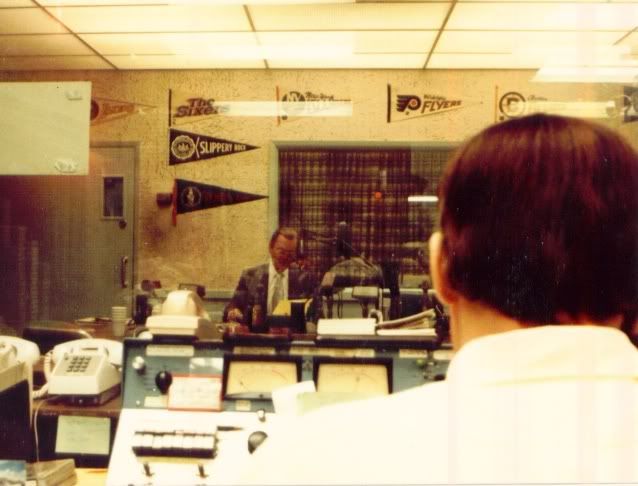 Paul Harvey in the WIOD studio (1979?)
How I Met Paul Harvey
It was in 1970 when I secured a job as a radio engineer at WIOD-AM and FM in Miami. It was one of the big powerhouses in SE Florida at the time with the NBC Radio Network. A few years later, under different management, the station aligned with the ABC Radio Network, and there was an old friend, Paul Harvey. I had listened to him quite a bit while I was in the Army and looked forward to his newscasts.
I forget the year, but I'm going to say it was 1979 when Paul Harvey was invited to speak at a local function in Miami. ABC had arranged with our people for him to do his morning and noon broadcasts from our studios. This turn of events really blew me away and knocked my socks off! Here I was, about to meet the very person I have come to regard as "Mr. Radio". It was hard to believe that he would actually be in our building and I just might be able to meet him. My respect for him had grown over the years since MP school when I first learned of this radio giant. My head was swimming. Giant? Maybe not -- he was less than seven feet tall!
As things turned out, the guys in the news room highly enjoyed him, and maybe a bit of his professionalism rubbed off on them. WIOD had a Master Control Room configuration – meaning all audio was controlled and ran through my domain. I was the engineer on duty that morning. The Chief Engineer (CE) came in early to check on me and the uplink to ABC. He was impressed with PH too.
About 8:20 AM, I got a phone call from ABC, New York. They planned to talk me down to PH air time. The uplink was cool at their end, and here, my CE was pacing the floor. With the phone at my right ear, I looked up, through double glass window, into the talk studio. I see the big heavy, soundproof door slowly swing open and in walks Paul Harvey.
I was so at ease (make that at un-ease) I don't remember how I acknowledged his presence when our eyes met, but I'm sure I made some gesture that was honorable. Paul sat in the chair at the main position where Larry King, Alan Courtney and so many other talk show hosts always did their shows. He arranged all his 3-by-5 cards in front of him – yellow ones seem to be the commercials – white for his news.
ABC, on the phone, said, "One minute". A jolt went through me. My CE was being a pest. Then ABC said, "Stand-by, ten seconds. Seven, six, five…." Silence followed. ABC stopped talking to me – I panicked, I popped the MIC switch and Paul said, "Good Morning America, this is Paul Harvey. Standby for news!"
ABC never told me why they didn't count all the way down. I was very shaken by the incident at the time. All went well during the five minute broadcast. Then PH got up and walked out of the studio with his 3 x 5 cards tucked safely in his coat pocket for re-shuffling and editing in the noon broadcast.
Soon Mr. Harvey was in the hallway with the station big-wigs. They were all headed to the golf course. I grabbed the sheet of paper from ABC that outlined the broadcast details. Running down the hall with pen and paper in hand, I approached the group and asked Mr. Harvey for his autograph. He did so willingly and I got to shake his hand and thank him. He said, "No, no – I thank YOU! ". I think I still have that piece of paper – I sure hope so. I should frame it.
Later that morning the golfers returned to the station and PH got right to work on his noon broadcast – checking the wires and re-typing his 3 x 5 cards. I was off duty and another engineer was captain of the Master Control Room, but I hung around to get another look at "Mr. Radio" in action.
As air time approached, ABC New York called again to give the usual talk-up and to relate that the uplink was standing tall. Our engineer was over-the-top, nervous about doing a national feed. His forehead was wet, as were his palms. He turned from his chair at the console and asked me to do it for him. I was a bit surprised but I understood and I assumed the seat of power for the next twenty minutes.
Again, ABC counted me down, and this time the guy went all the way to one. I opened the MIC for Paul Harvey for the second time that day. About three minutes into the feed, ABC decided everything was OK. They said "thank you" and "goodbye". Flawlessly, we had completed the noon broadcast of Paul Harvey News and Commentary. I went home, a very "happy camper" with my ABC autographed paper in my pocket.
Steve Zeigler
Venice, Florida
===========

Other background:
Former US Army MP
WHOF [Canton OH] 1964
WOIO [Canton] 1967
WIOD [Miami FL] 1970-1997
Steve says (5/08), "Following 33 years in local radio, Dave Graveline and I started the nationally syndicated Into Tomorrow in 1996. As of October 2007, I am retired and living in Venice, Florida."
Saturday, February 28, 2009